Rebirth Wildflower Dance
60 x 40





Glacial Lake with Canoe at Rest
40 x 60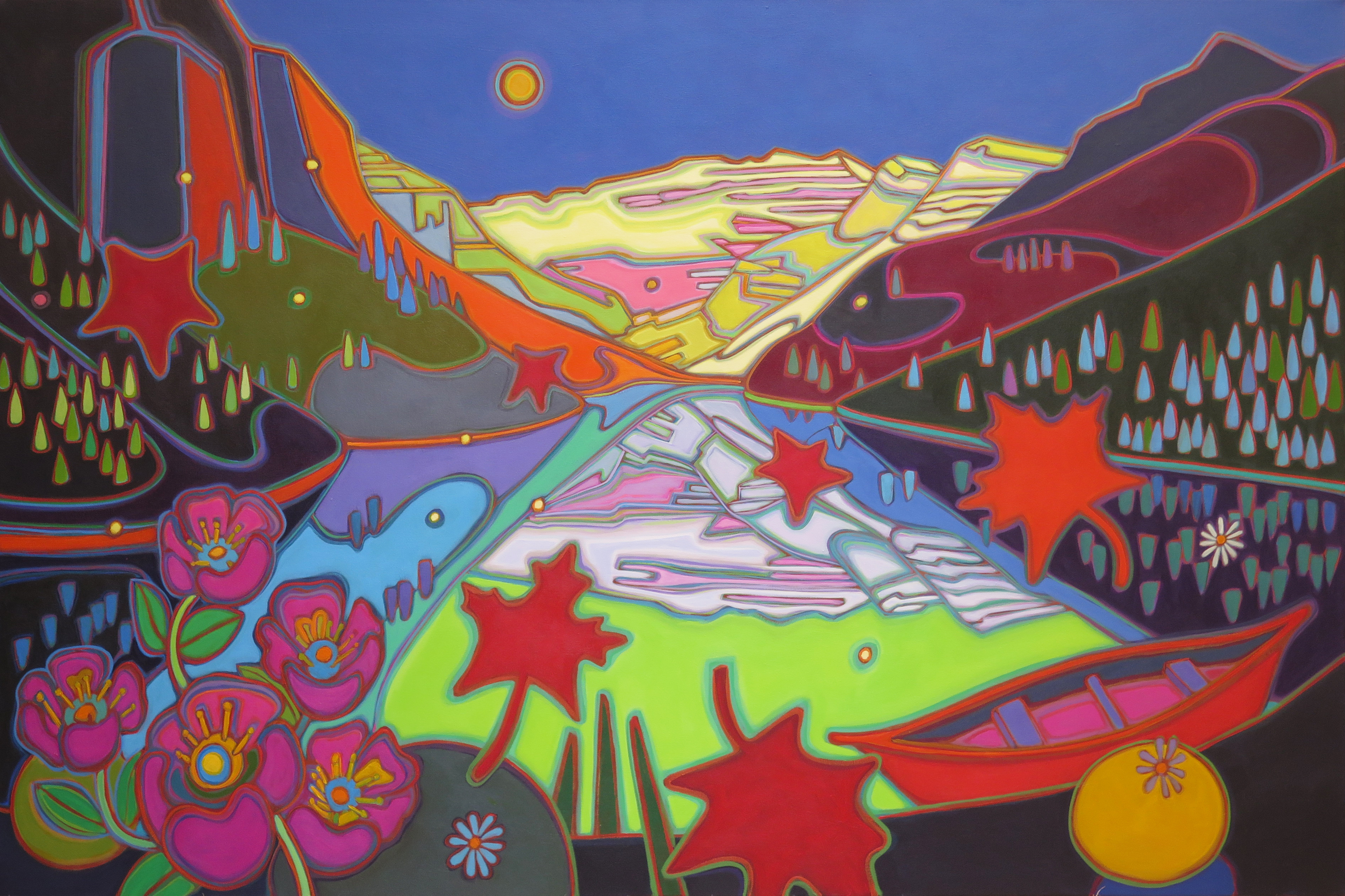 Lake Louise Evening Glory
40 x 60





Glacial Lake Canoe at Rest
48 x 48




Glacial Lake with Wildflowers
36 x 36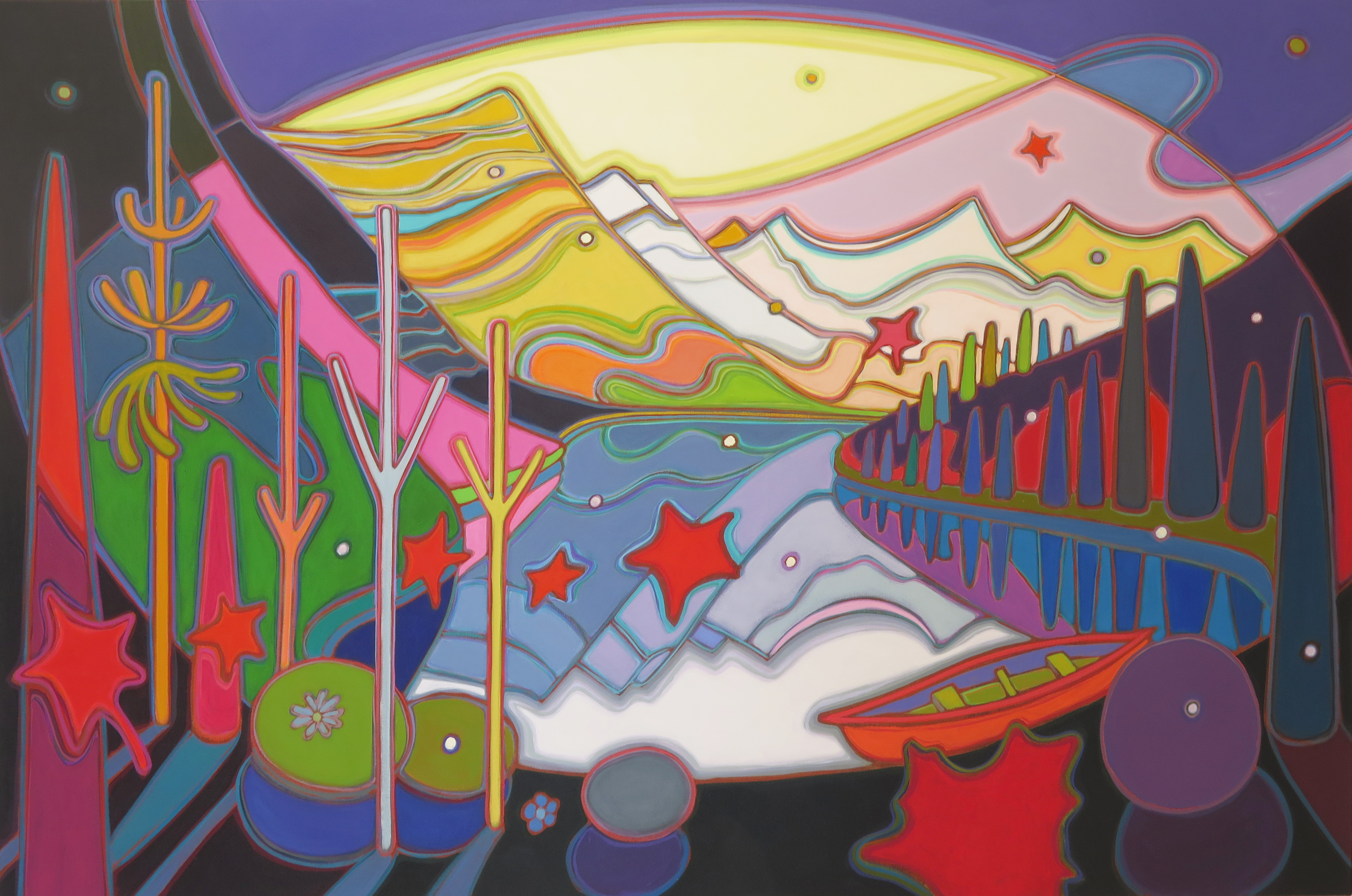 New Dawn Awakening
40 x 60




Last Canoe Ride of the Season
40 x 60
SOLD





Canoe Resting in Rainbow Reflections
40 x 60
SOLD





Canadian Rockies Sunlit Mountains with Cascading Wildflowers
36 x 36
SOLD






Wildflowers above the Lake
30 x 40
SOLD





Yellow Dawn Lavender
Mountaintops & Wildflowers
30 x 30
SOLD





Red Canoe in Yellow Dawn
30 x 30
SOLD






Pink Sunset on Red Canoe with Wildflowers
30 x 30
SOLD






Jasper Big Sky
36 x 60
SOLD






Snow capped Mountains with Turquoise Lake
36 x 48






Grand Vista in Crimson Sunset
48 x 60
SOLD






Lavender Snow Capped Mountains with Turquoise Lake & Wildflowers
36 x 36
SOLD





Snow Capped Mountains with Emerald Lake & Wildflowers
36 x 36
SOLD





Cascading Wildflowers and Mountain View
36 x 48
SOLD





Snow Capped Rockies with Cascading Wildflowers & Lake
30 x 40
SOLD




Emerald Lake with Snow Topped
Mountains and Wildflowers
36 x 36
SOLD




Pink Sky over Emerald Lake
36 x 48
SOLD




Wildflowers and Emerald Lake
48 x 48
SOLD

3 Cows with Rainbow Ribbon Sky
24 x 48






Yellow House with Farmer's Field & Lupins
24 x 48





Yellow House Rainbow Sky
24 x 24
SOLD





Beach Walk Lime Green Sky
24 x 24






Yellow House with Striped Fields and Lupins
40 x 30





Nightfall Dancing Sky
40 x 30




Yellow House Swirling Sky
30 x 40





Beach Walk Shifting Sky
36 x 24





Beach Walk in Sunset Sky
36 x 48





Moon Rising on Farm Field with Lupin
30 x 36





Fishing Houses of Malpeque
24 x 36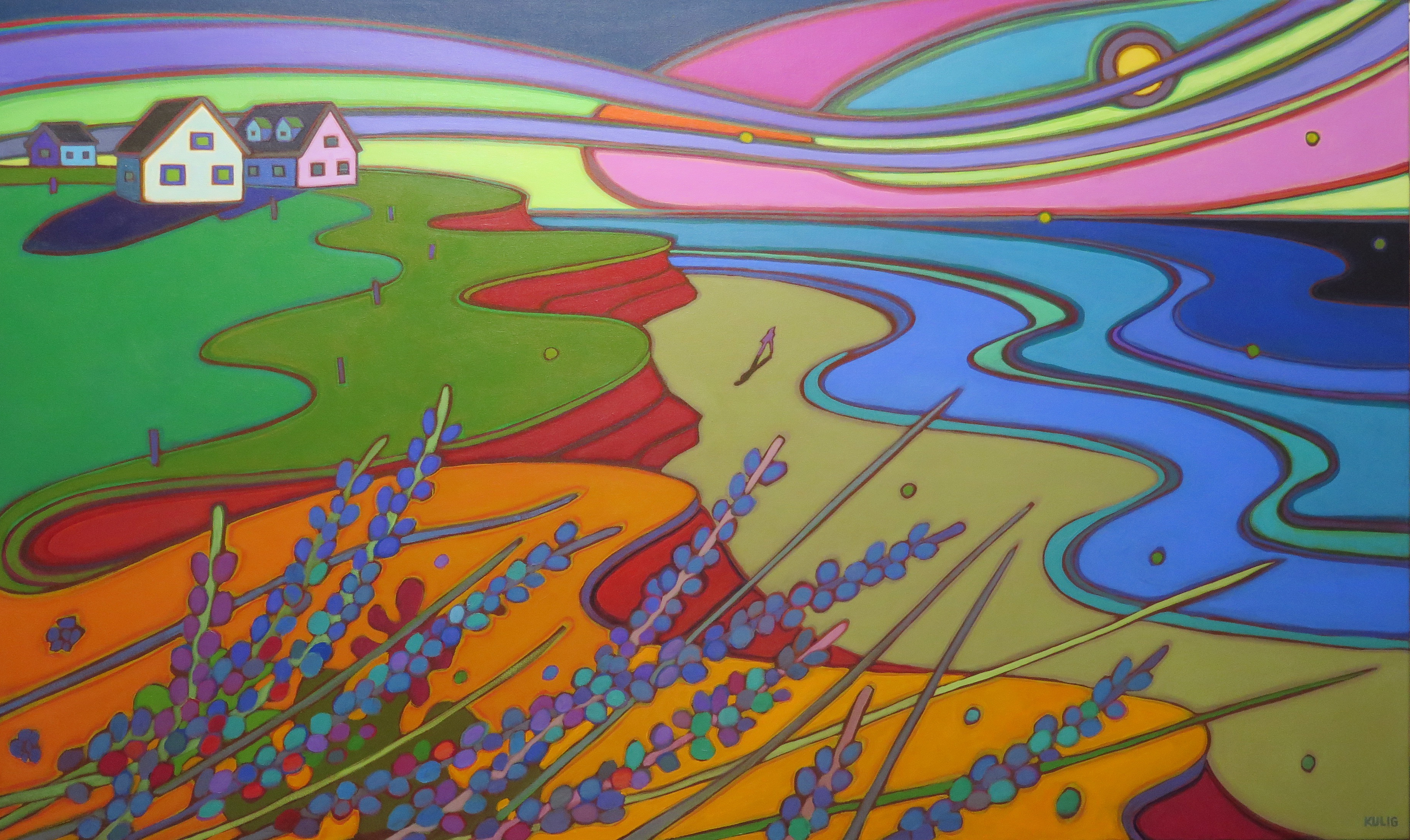 Beach Walk Pink & Pale Green Sunset Sky
36 x 60
SOLD





Beach Walk along the Atlantic Ocean
36 x 24
SOLD





Sunset Beach Walk
30 x 30
SOLD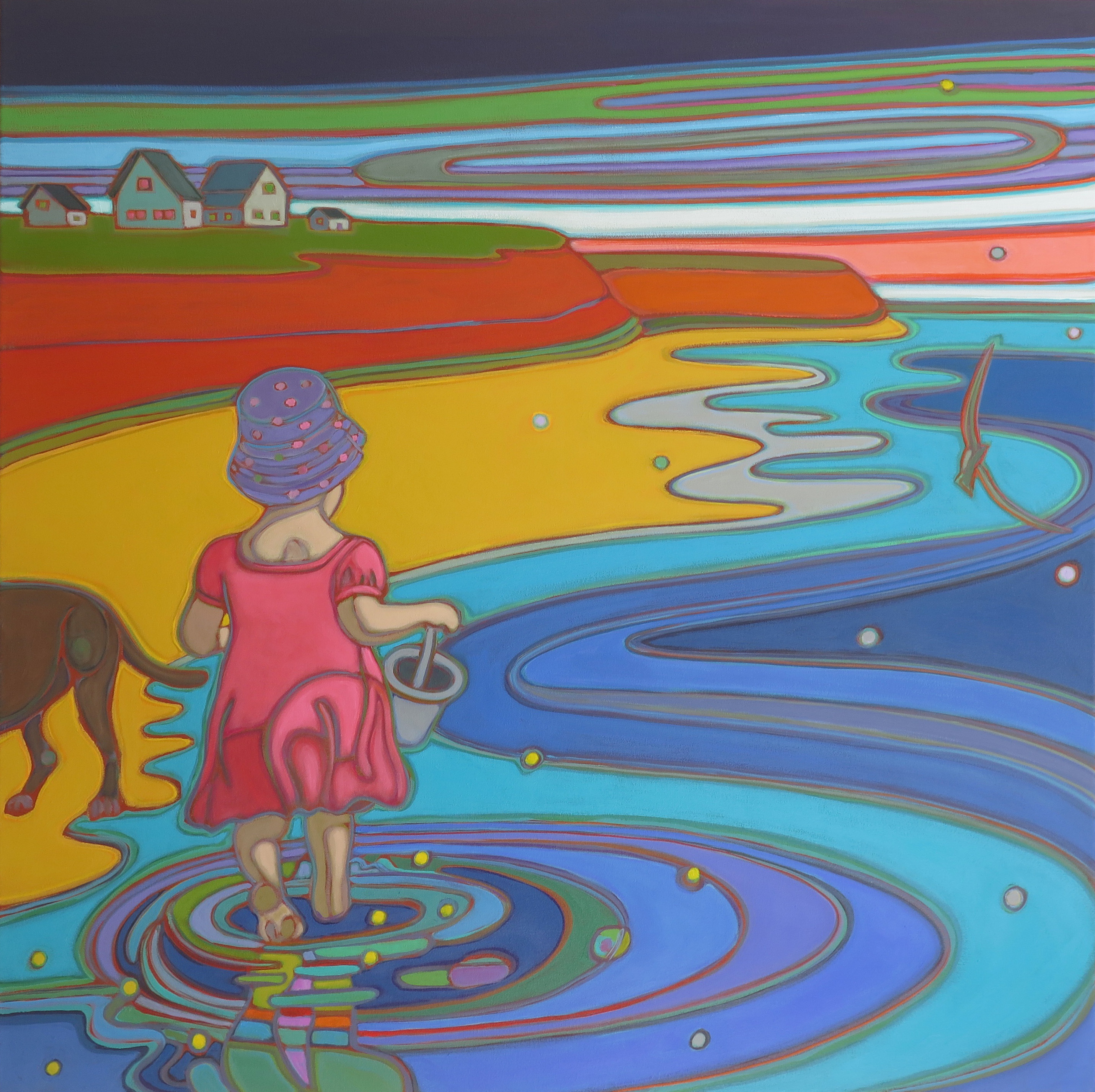 Norah's Bucket List, PEI
36 x 36
SOLD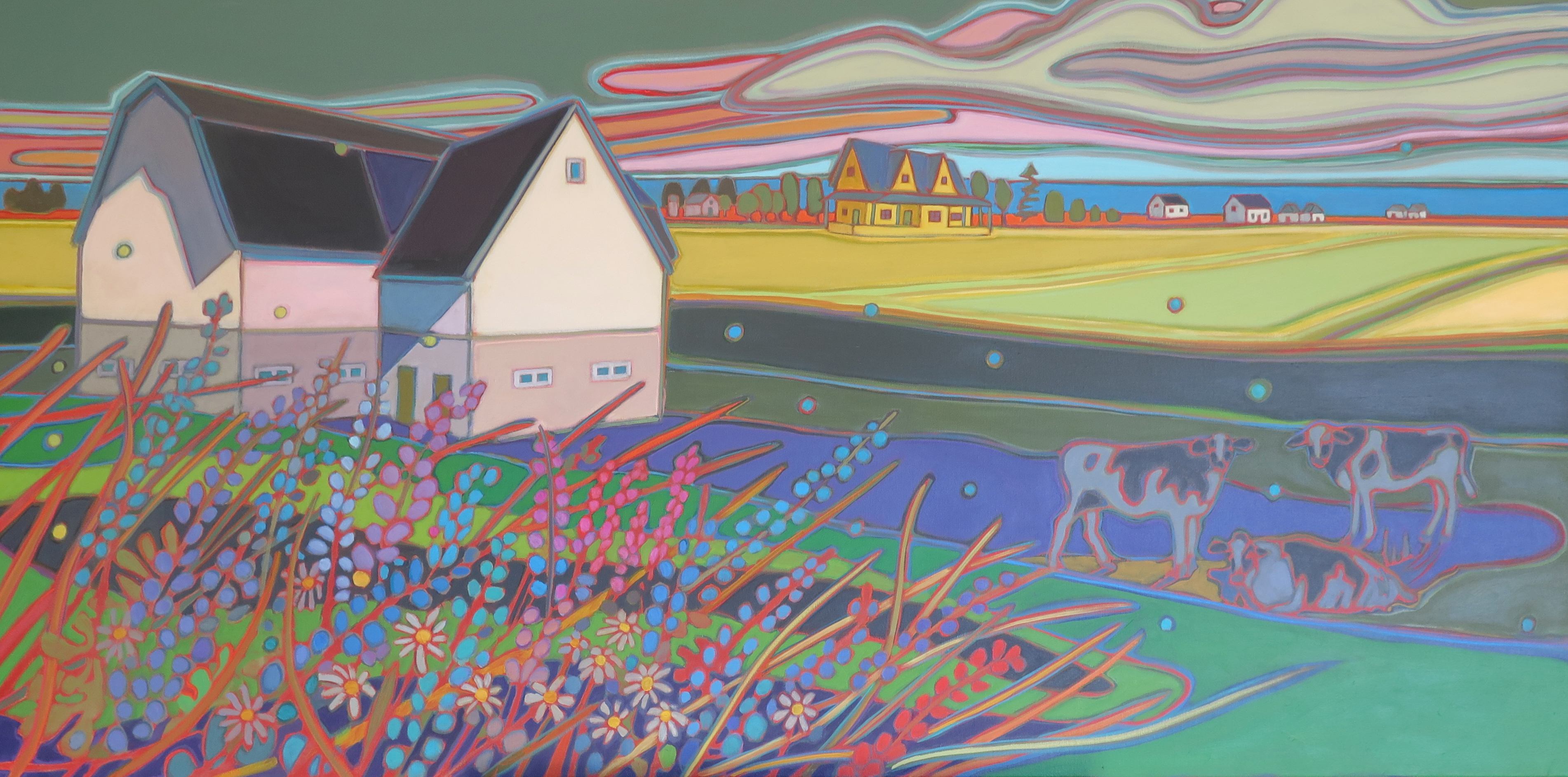 Cows in Field with Lupin
30 x 60
SOLD

Moonlight Reflections
40 x 60



Waters of Silence
30 x 60





Waters of Silence
36 x 60
SOLD





Midnight Canoe Ride on Still Waters
48 x 60
SOLD




Warm Light of Benevolent Sunset
48 x 36





View through the Rolling Hills
48 x 48




Red Canoe resting in Strawberry Moonlight
30 x 30





Canoe Ride on Still Waters
30 x 60
SOLD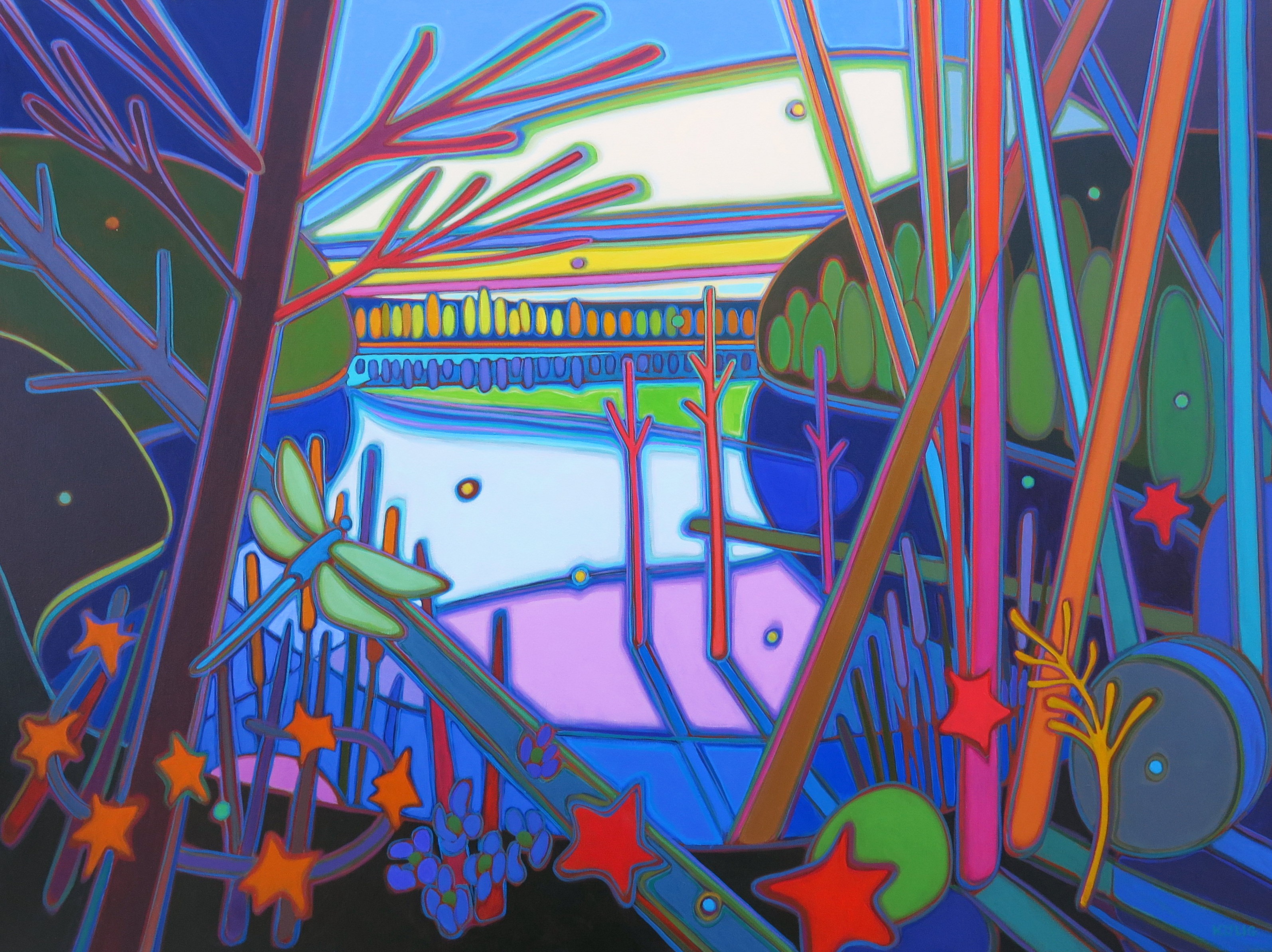 Dragonfly Ascending into Twilight
36 x 48
SOLD




Autumn in Muskoka
36 x 48
SOLD




Tom's Canoe
36 x 48





Starry Night Canoe at Rest
36 x 36
SOLD




Old Forest Standing Watch
36 x 36





Fall Birch and Maple Glow
30 x 30





Canoe Ride Fall Colours, Yellow Sky
24 x 48
SOLD





Canoe in Autumn Glow
30 x 30
SOLD





Fall Late Afternoon Shadows
30 x 30





Muskoka Boathouses in Autumn
48 x 48
SOLD





Fractured Light across the Lake
30 x 40





Autumn Rolling Hills above Doe Lake
36 x 36





Dusk upon the Autumn Lake
24 x 24
SOLD





Pink Sky over Big Doe Lake
24 x 24





Autumn above Doe Lake
24 x 30
SOLD






Autumn Pink Dusk
16 x 20






Dusk in Autumn Glow
16 x 20





Autumn Hills Late Afternoon Light
48 x 48





Lake Reflections & Dancing Maple Leaves
30 x 36





Autumn Lake with Falling Leaves
36 x 30





Autumn Reflections
24 x 30





Big Doe Warm Light
30 x 30





Fall Evening Lake Reflections
30 x 30





Boathouse across the Lake
30 x 40
SOLD






Sunset Salutations
24 x 36
SOLD




Dragonfly
24 x 36
SOLD




Grand Vista above Big Doe Lake
48 x 60
SOLD





Blazing Autumn Colours across the Lake
36 x 36
SOLD





Canoe Ride at Dusk
24 x 48
SOLD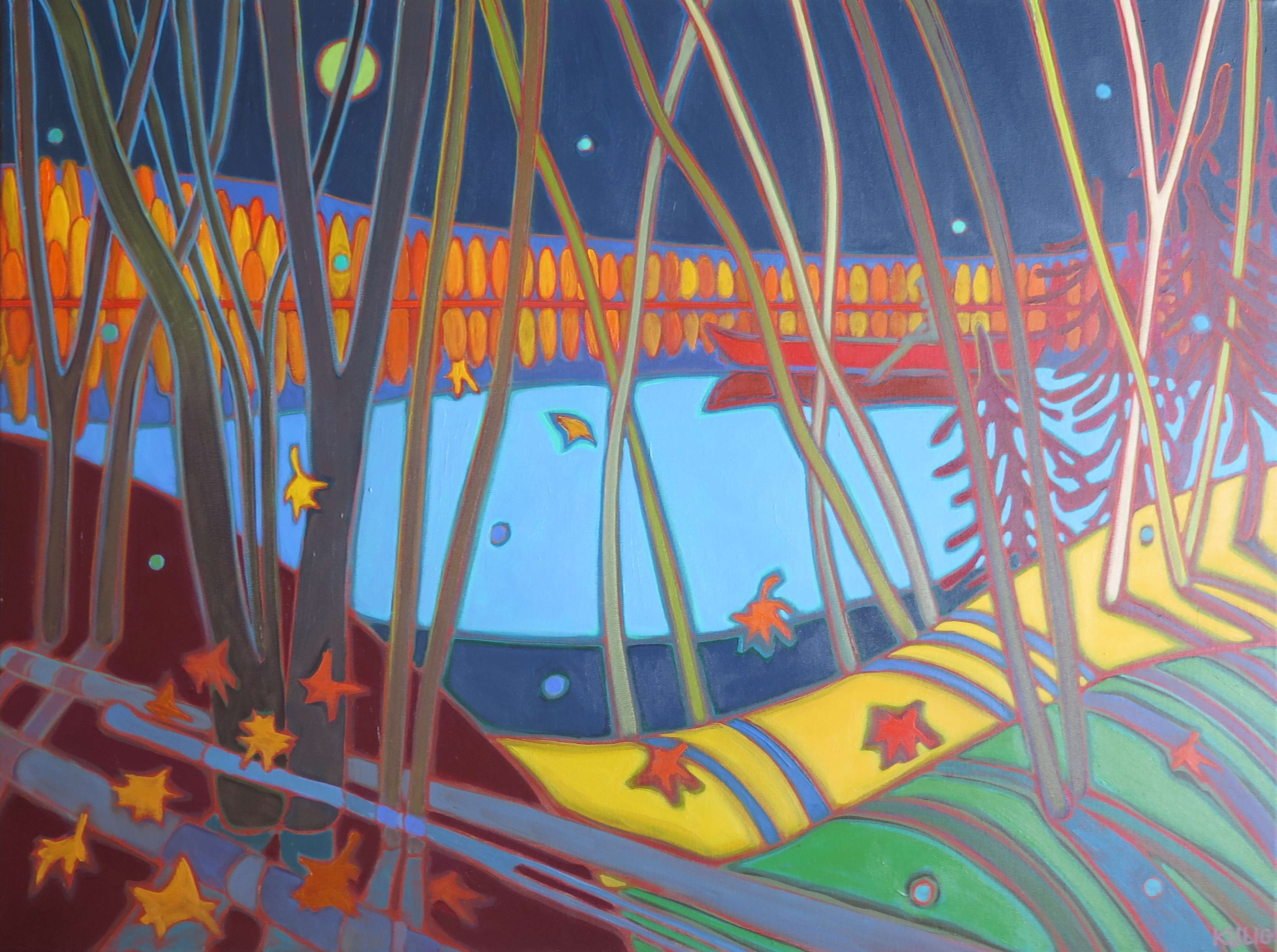 Midnight Canoe Ride
40 x 30
SOLD





Autumn Light Fractures
36 x 36
SOLD





Harvest Moon on Canoe
40 x 30
SOLD





Little Boathouse across the Lake
36 x 36
SOLD





Pink Moon on Red Canoe
24 x 24
SOLD





Fall Birch Above the Lake
30 x 30
SOLD





Sprucedale, Ontario
36 x 30
SOLD

Winter Wonderland Moonlight Sonata 48 x 48




Moon River Pink Sky
48 x 36





Snow Gently Falling on Sunset Mountainscape
36 x 60




Guardian Angels
36 x 60
SOLD



Snow Ghosts
30 x 36
SOLD




FIrst Snow
36 x 36
SOLD




Moonlit BAy
48 x 48
SOLD



Moonlit Bay Starry Night
48 x 48
SOLD




Midnight Moonlit Dance
48 x 48
SOLD




Moonriver Midnight Sky Yellow Moon
36 x 48
SOLD



Moon RIver
40 x 60
SOLD



Moon RIver Gently Flowing
48 x 60
SOLD




Moon RIver Northern Lights at Midnight
40 x 60
SOLD





Moonlight GLow on Snow LAden Trees
48 x 48
SOLD




In a Silent Way
48 TONDO
SOLD




Moonlit WInter Night
30 x 36
SOLD




Snow Angels
72 x 48
SOLD




Sunset at Silverstar
36 x 60




Cows Grazing in Field
36 x 30

Jellybean Hill
24 x 24




Port Rexton Midnight Calm
36 x 36





Jellybean Hill Warm Red Light
30 x 30
SOLD





Jellybean Hill
20 x 20
SOLD






Jelly Bean Hill - St John's
36 x 36
SOLD





Moonlight Glow On the Village
30 x 30






Irish Loop Drive, Newfoundland
24 x 48





Iceberg Family
36 x 36





Moon Rising Above the Headstones
24 x 48





Jellybean Hill, St. John's Newfoundland
48 x 36
SOLD





Moon Rising above Port Rexton
36 x 36
SOLD





Bonne Bay, Newfoundland
36 x 36
SOLD





Jellybean Hill with White Boat
36 x 36
SOLD






Twilight on Fishing Village
30 x 30
SOLD






Village Looking out to the Atlantic
30 x 30
SOLD






Little Fogo Island, Reflections of Days Gone By
30 x 40
SOLD





Iceberg Reclining
30 x 40
SOLD


Gates of Old - St Nicholas Abbey
48 x 48






Walk Home from School,
30 x 36




Goldfish, Speightstown
30 x 36





After School
30 x 24






Old Tin Roof
SOLD
16 x 20






Red Orange Bikini
39 x 36
SOLD






Barbados, Sandy Lane
16 x 20






South Coast Walk
36 x 24






Almond Tree
24 x 24






Sweet School Children
24 x 24
SOLD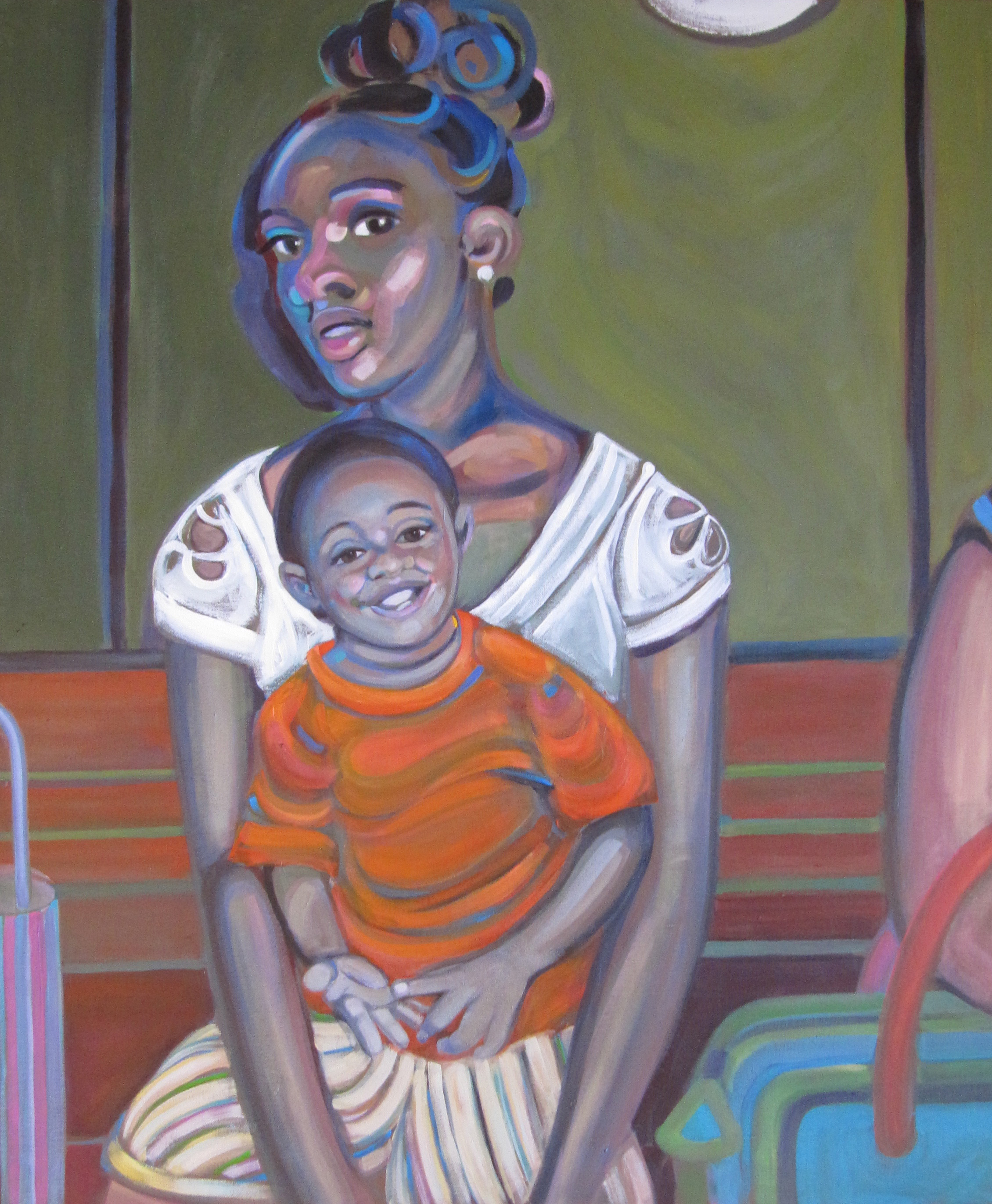 Bus Station
30 x 36





Weekend SUN
30 x 36







ARTIST STATEMENT






Early in my youth I developed a love for drawing. Everyday objects, faces and scenes would inspire me to draw and revealed to me a place of total contentment. Originally from Ottawa, I moved to Toronto to study at OCAD. Working for 20 years as a graphic designer and running my own studio has proven to be the training ground that developed a strong work ethic and a solid tool box. The designer in me loves simple shape and bold colour while the painter in me explores light, rhythm and personal connection. I continue to play with a careful balance between my intellectual and intuitive self.

When I travel I take hundreds of photographs which I use as reference for the authentic details in my work. I carefully design and draw out my painting on a dark ground colour before I start to paint. Whether I am painting a portrait, a stunning Canadian landscape or an urban street scene in Europe, my goal is to reveal the lifeforce of my subject.

While Henri Matisse said, "I don't paint things. I only paint the difference between things, my goal is to capture "the thing about the thing." In so doing, I attempt to capture the sentient quality of all forms around us. I hope that my work is both relatable and familiar to my audience.




Vienna Red Roof GLASS MOSAIC
38 x 38 (framed)
SOLD



Stages of our first KULIG&GABRA collaboration being worked on by Akram and Fadia Gabra of Glass Mosaic Canada Studio in Toronto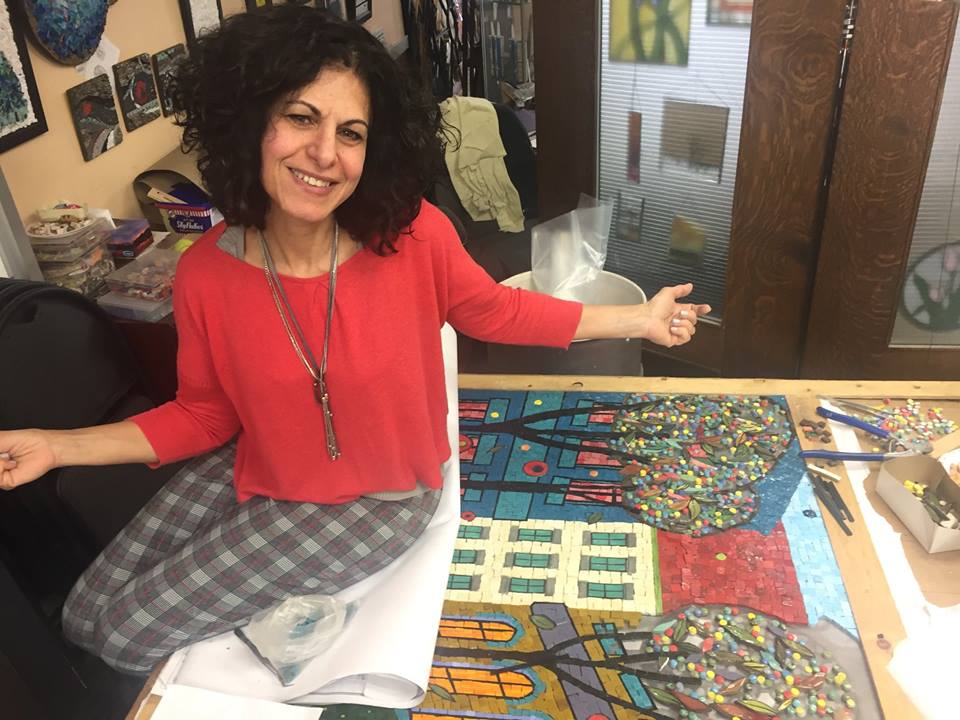 MEDIA



Ottawa Life Magazine profile
https://issuu.com/ottawalifers/docs/spring_2018/7




Darlene Kulig: Making the Rainbow Connection
http://www.ottawalife.com/article/darlene-kulig-making-the-rainbow-connection?c=13





Click to read feature article
TorontoHOME Canadian Artist Feature



Rhianna melted when she was presented at the New York Opening of the Pixar movie HOME with a reproduction of a Barbados inspired Kulig painting "Walking Home".








SUMMER 2017 CANADIAN EMBASSY IN BRATISLAVA
Canadian painter Darlene Kulig's visit to Bratislava this week served as a nice opportunity to exhibit some of her work. Some of Darlene Kulig's signature Canadian Landscapes have been installed in selected Canadian Embassies in North America and Europe. Thank you to those who attended. #Canada150



Click to read feature article
Darlene Kulig's Art Exibition in Bratislava








SHOP & GIFT CERTIFICATES
Gustav's Cat 1000 piece puzzle
$30.00 plus shipping
Add to Cart
Candian Rockies Boxed Card Set

20 blank cards (4 different images) and Envelopes

$30.00 plus shipping

Add to Cart



CRAIG KULIG MEMORIAL CARDS

Proceeds from the sale of the cards below go to the Craig Kulig Memorial Fund in support of cancer research at The Ottawa Hospital.
To read more about The Craig Kulig Memorial Fund please click http://otthf.convio.net/Craig-Kulig-Memorial-Fund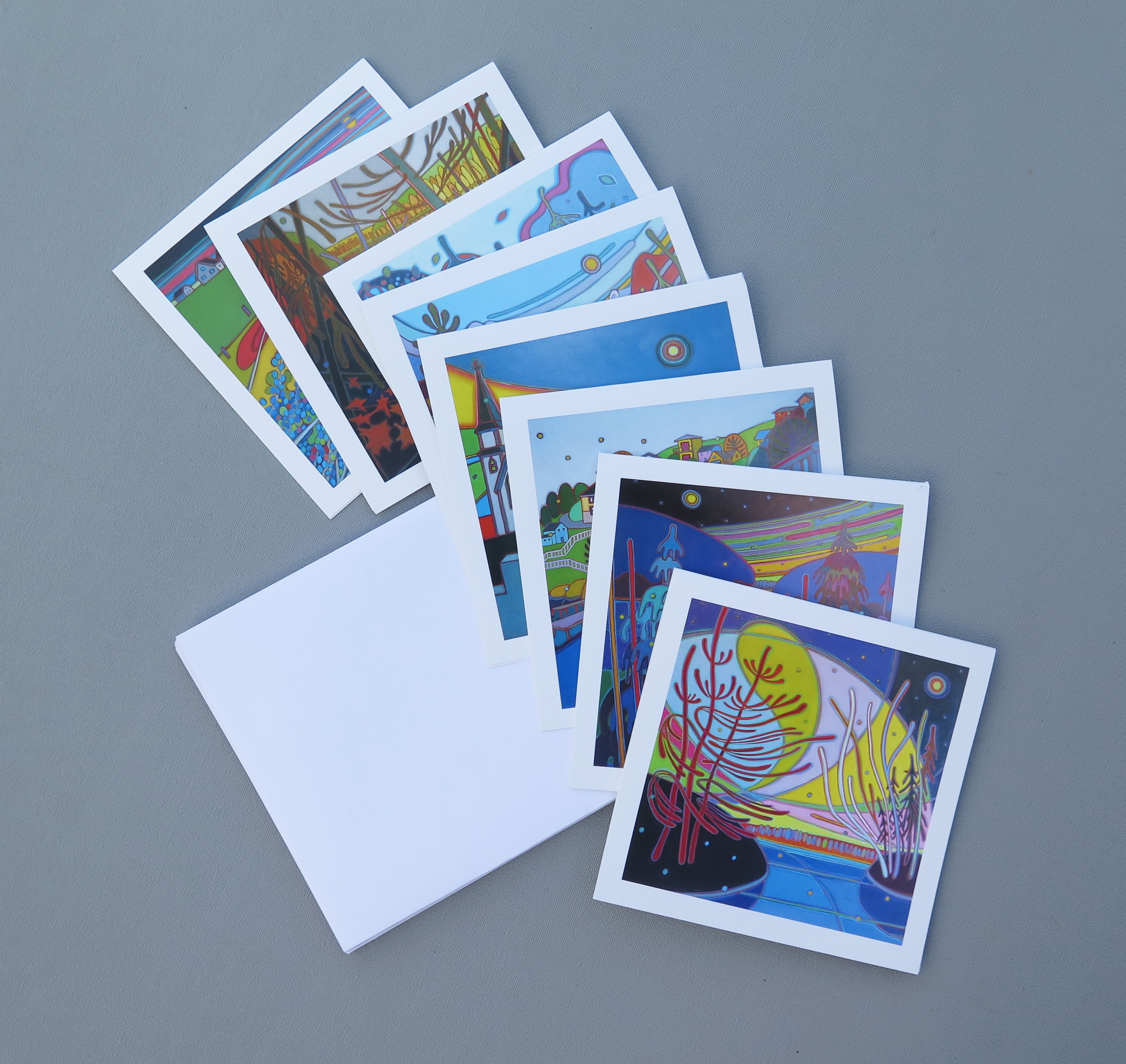 8 Different Canadian Landscapes
Square Note Cards & Envelopes
5 1/4" x 5 1/4"
$20.00 plus shipping

Add to Cart








8 Different Canadian Landscapes
Vertical Note Cards & Envelopes
6" x 4"
$20.00 plus shipping

Add to Cart




GIFT CERTIFICATES & COMMISSIONS
Clients may also purchase gift certificates to be used towards a purchase. It is nice to have a studio visit to meet Darlene and see all the possibilities..... as well as discuss potential commissions.